Services
As pediatric occupational, physical, and speech therapists, we pride ourselves in being able to offer therapy services in the natural environment as well as clinic setting to best meet the needs of the family.

Occupational Therapy is a therapeutic program designed to evaluate, treat and manage a variety of neuromuscular, skeletal or cognitive limitations in infants, children and adolescents.
Our therapists specialize in the evaluation and treatment of infants, children and adolescents who are experiencing difficulties with performance of daily activities in the areas of feeding/eating, self-care, play, learning and development due to a variety of congenital or acquired disorders.
Therapy interventions include:
Fine-motor skills rehabilitation—motor control, writing skills, bilateral integration, motor planning
Perceptual processing—body scheme, visual closure, spatial relations, position in space
Sensory processing—tactile, proprioceptive, vestibular, visual
Pediatric Physical Therapists provide treatment for children who have delayed gross motor skills and/or lack flexibility, strength or endurance.
Treatments may include exercises and or therapeutic activities that are specifically geared toward:
Mobility (ie. Crawling, walking, and running….)
Balance, coordination and endurance
Range of motion and strength
Seating and positioning
Gait/Transfer Training
Postural Alignment
Therapy goals are established with the parents to focus on helping children improve their function, mobility and prevent or limit permanent physical disabilities. Therapists teach parents and children to use adaptive equipment, such as crutches, walkers and wheelchairs and also evaluate and make recommendations for orthotics.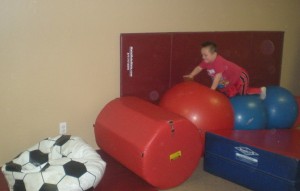 Our Speech and Language department is staffed by Masters level, licensed Speech-Language Pathologists who specialize in treating the full range of speech, language, feeding, fluency, voice and pragmatic disorders associated with normally developing children and children with developmental delays.
Speech disorders we work with may include:
Articulation errors, motor
Sequencing/apraxia, dysarthria, phonological disorders
Language disorders including: pragmatic disorders, language delay, central auditory processing disorders
Feeding disorders including: failure to thrive, sensory feeding disorders, gastrostomy feeding tube issues, oral motor hypersensitivity often secondary to GERD.
Fluency (stuttering) voice disorders